App & Website Blocker
Block distracting websites and apps. Stay focused and get things done. Difficult to bypass. Designed for Mac. Free download.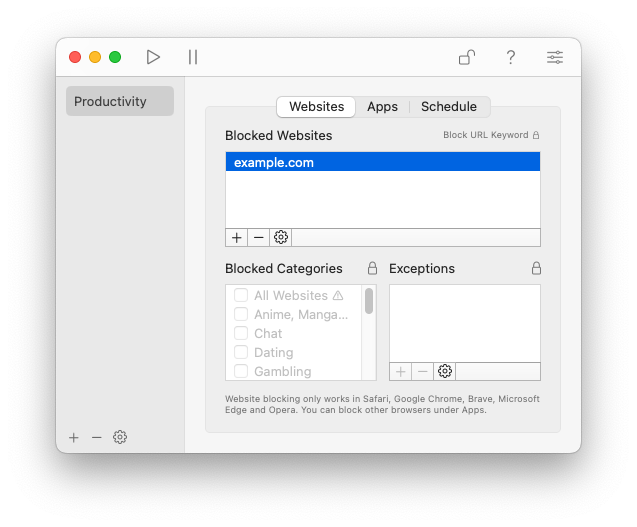 4.7 stars across 4000+ reviews
¹
Helps when I need focus
3/26/23
dagaz
In today's world of constant feeds and notifications, when I want to just stop and focus on my writing I turn on my writing focus (blocks the whole web and only allows my writing apps) for 20 minutes which allows me to just write without distractions.
Best App in world
5/8/23
keshkanti
Works great to eliminate bad habits.
Love this app and I've tried them all!
5/4/23
J. S.
On Mac, I don't think there's another app that compares to this and I downloaded over half a dozen the last few days and tried them all. Most of the other apps either don't work right, require multiple extensions, etc. or something else. For $9.99/year, the value is very reasonable. I mainly use it to block all social media after 10pm and to block social media and emails from before I wake up in the morning until noon each day to ensure I get distraction-free work done. I like that there are ways to prevent me from unblocking, which honestly, sometimes I need.
Why 1Focus?
Block Distractions
1Focus lets you block specific websites and apps. Also, you can block categories of websites². Block porn, email, or YouTube for example.
Boost Your Productivity
Increase your productivity by minimizing distractions using the best self-control app for Mac.
Designed for Mac
1Focus is specifically designed for macOS, ensuring seamless integration and optimal performance for Mac and MacBook users.
Difficult to Bypass
Active blocks cannot be canceled. Free your mind by eliminating the possibility of giving in to distractions.
Multi Browser Support
Block websites across Safari, Chrome, Brave, Edge, Opera, and Arc.
Motivational Quotes
When you try to access a website you blocked, a motivational quote encourages you to stay focused.
Multiple Block Lists²
Tailor 1Focus to your needs using separate block lists for different purposes or schedules.
Continuously Developed
1Focus has been continuously developed since 2014 and will continue to be improved.
Secure
1Focus has very limited access to your computer and does not change your system settings.
Private
Made in Germany with your privacy in mind. 1Focus does not upload any data and does not track the apps you use or websites you visit.